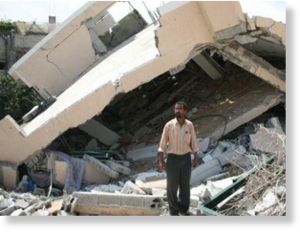 'De-Arabizing the history of Palestine is another crucial element of the ethnic cleansing. 1500 years of Arab and Muslim rule and culture in Palestine are trivialized, evidence of its existence is being destroyed and all this is done to make the absurd connection between the ancient Hebrew civilization and today's Israel. The most glaring example of this today is in Silwan, (Wadi Hilwe) a town adjacent to the Old City of Jerusalem with some 50,000 residents. Israel is expelling families from Silwan and destroying their homes because it claims that king David built a city there some 3000 years ago. Thousands of families will be made homeless so that Israel can build a park to commemorate a king that may or may not have lived 3000 years ago. Not a shred of historical evidence exists that can prove King David ever lived yet Palestinian men, women, children and the elderly along with their schools and mosques, churches and ancient cemeteries and any evidence of their existence must be destroyed and then denied so that Zionist claims to exclusive rights to the land may be substantiated.' -- Miko Peled, Israeli dissident.
Indeed, archaeology has become a state apparatus for the ethnic cleansing of Palestinians in the Zionist fairyland aka the City of David Archaeological Park located in the Palestinian village of Silwan in East Jerusalem.
East Jerusalem is the proclaimed capital of the proposed Palestine state. It was illegally annexed by Israel in the 1967 war. Prohibiting annexation of territories gained by military conquest is one of the major principles of international law. The international community does not recognise Israel's annexation of East Jerusalem nevertheless over 50,000 illegal premises have been built for 250,000 illegal Israeli colonists.