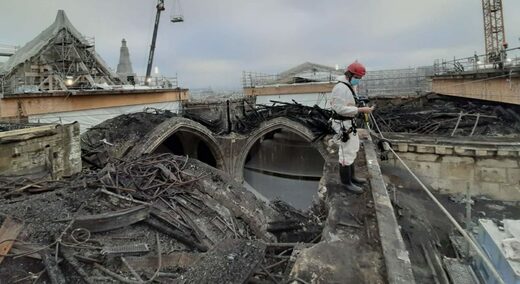 Two years ago, a fire devastated Paris' iconic Catholic cathedral. An archaeologist outlines the unprecedented research scientists are now undertaking to make the most of the disaster.
The night of April 15, 2019, brought unimaginable tragedy to Paris' iconic medieval Catholic cathedral. I was on the metro at the time, when I got a phone call from a colleague: "Notre Dame is burning." When the train crossed the Seine a few minutes later, I saw it with my own eyes, from a distance, helpless.
The fire
caused the cathedral spire to collapse, most of the roof was destroyed, and its upper walls were severely damaged.
The first time I could access Notre Dame was in December 2019, more than six months after the fire. I pulled on a mandatory protective suit and powered respirator to protect me from lead emissions, and was taken up to the top of the southern transept. From there, I gasped at the site of the northern great rose window through the wide hole where the spire had totally collapsed. I was speechless. The vaults were a total mess of carbonized wooden and metallic pieces.