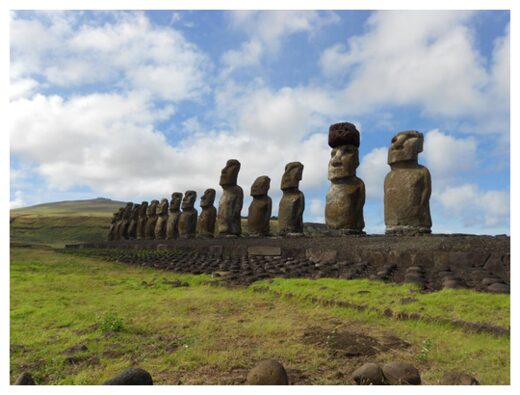 After a long journey, a group of settlers sets foot on an otherwise empty land. A vast expanse separates them from other human beings, cutting off any possibility of outside contact. Their choices will make the difference between survival and death.
The people of Easter Island may have something to teach future Martian colonists.
Binghamton University
anthropologists
Carl Lipo and Robert DiNapoli explore how complex community patterns in Rapa Nui — the indigenous name for both the island and its people — helped the isolated island survive from its settlement in the 12th to 13th century until European contact.
Their findings, "
Population structure drives cultural diversity in finite populations: A hypothesis for localized community patterns on Rapa Nui (Easter Island, Chile
)," were recently published in the scientific journal
PLOS ONE
. Co-authors also include Mark Madsen from the University of Washington's Department of Anthropology and Terry Hunt from the University of Arizona's Honors College and School of Anthropology.
"The cool thing about Easter Island is that it's a great case study for what happens in absolute isolation," said Lipo,
a professor of anthropology and environmental studies and associate dean of Harpur College
. "From our best understanding, once people got to the island, that was it. They weren't going anywhere else and there wasn't anyone else coming in."
Shaped like a triangle, Easter Island is small: around 15 miles long and a bit more than 7 miles wide at its thickest point. It's also one of the most remote inhabited places on Earth, more than a thousand miles away from the closest inhabited neighbors.
But for all its small size, Rapa Nui had multiple clans and small communities that maintained both cultural and physical separation. The archaeological evidence shows stylistic differences in the creation of artifacts in communities only 500 meters apart, for example. The inhabitants' physical remains also show they didn't stray far or marry away from home; this was uncovered through DNA and isotope analyses, as well as skeletal variations between communities.
These small communities may have been a cultural bulwark against a phenomenon known as random drift, according to their research.