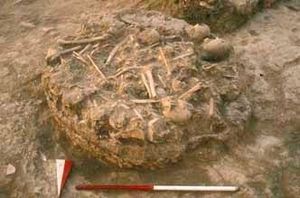 Mass killings, systematic violence or warfare seem to have existed across all stages of the human civilization. A mass burial excavated at Titris Hoyuk, an archaeological site of Early Bronze Age (3000-2000 BC) in southern Turkey, shows evidence of massacre that happened about 4,000 years ago.
Skeletal remains of at least 19 individuals, including three women, two children and an infant, were found placed on a plastered basin buried under a house floor in Southeast Anatolia in 1998.
Turkish archaeologist Omur Dilek Erdal, who examined the human remains in terms of cranial traumas (head injuries), has revealed that his study provides links to possible massacres among ancient population.
The study findings, published in the current issue of
International Journal of Osteoarchaeology
, suggest that about 16 of the adult skeletons showed signs of more violent cranial traumas, which were probably caused by spears or axes.