New laser method enables study of famous jewelry - trade links in Early Bronze Age stretched as far as Indus valley.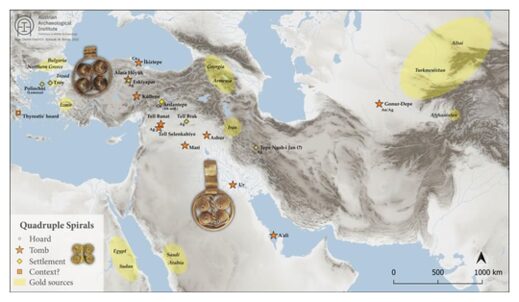 The gold in objects from Troy, Poliochni - a settlement on the island of Lemnos which lies roughly 60 kilometers away from Troy - and Ur in Mesopotamia
have the same geographic origin and were traded over great distances.
This discovery has been made by an international team of researchers which using an innovative mobile laser method has for the first time been able to analyze samples of the famous Early Bronze Age jewelry from Troy and Poliochni. The results have been published in
Journal of Archaeological Science
.
The study was initiated by Ernst Pernicka, scientific director of the Curt-Engelhorn Center for Archaeometry (CEZA) at the Reiss-Engelhorn Museums in Mannheim and director of the University of Tübingen's Troy project, and Barbara Horejs, director of the Austrian Archaeological Institute (ÖAI) at the Austrian Academy of Sciences in Vienna. Their international team brought together scientists and archaeologists from the Curt-Engelhorn Center for Archaeometry, the Austrian Archaeological Institute in Vienna and the National Archaeological Museum in Athens.
Ever since Heinrich Schliemann discovered Priam's Treasure in Troy in 1873, the origin of the gold has been a mystery. Professor Pernicka and the international team has now been able to prove that it derived from what are known as secondary deposits such as rivers and its chemical composition is not only identical with that of gold objects from the settlement of Poliochni on Lemnos and from the royal tombs in Ur in Mesopotamia, but also with that of objects from Georgia.
"This means there must have been trade links between these far-flung regions,"
says Pernicka.