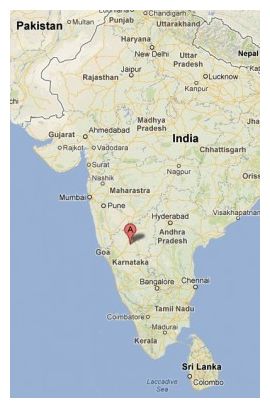 Dr. S.N. Prasad of Mysore, India was kind enough to let us post some of his images from a recent trip to the Badami cave temples. Located in Karnataka, India, they're an example of Indian
rock-cut architecture
. In other words, they are structures or statues, carved from solid natural rock.
When you see the photos below, you'll be amazed at this practice, especially when you think about how old they are. They date from the late 6th to 7th centuries.
The town of Badami, India lies at the mouth of a ravine with rocky hills on either side. The cave temples are carved out of the soft sandstone of these hill cliffs.
At the cave entrance is a verandah (
mukha mandapa
) with stone columns. It leads to a columned main hall (
maha mandapa
) and then to a small square shrine cut deep into the cave.