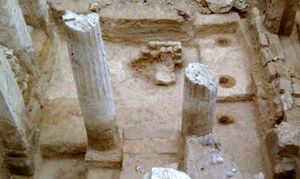 Egyptian archaeologists have discovered four Greek and Byzantine-era rock tombs in a section of old Alexandria's eastern necropolis in an area neighbouring Al-Ibrahimeya tunnel.
The site was discovered during excavations carried out by the Ministry of State for Antiquities (MSA) and stretches between the areas of Al-Shatbi and Mostafa Kamel.
Excavations uncovered four rock-hewn Greek and Byzantine tombs containing a collection of funerary pots, perfume containers and lamps.
MSA minister Mohamed Ibrahim stated that the aim of the excavations was to inspect the area for archaeological artefacts before declaring it free for residential building.
"It is a very important discovery that adds more detail to the archaeological map of Alexandria," Ibrahim told Ahram Online.
A finely decorated clay container from the second century BC was among the discoveries, he added.