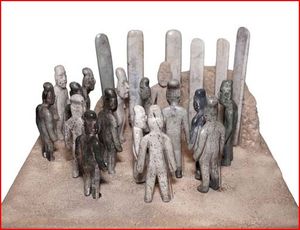 The headline items in the de Young Museum's new special exhibit, "Olmec: Colossal Masterworks of Ancient Mexico" are indeed colossal, similar to the iconic - if much more contemporary - Easter Island heads.
The unique show, organized by many and led by the de Young's Kathleen Berrin and Virginia M. Fields of the Los Angeles County Museum of Art, represents the only chance for visitors to see 140 ancient objects outside their homes in 25 Mexican and U.S. museums. In addition to the huge heads, the exhibition also features many small, fascinating works of art.
The Olmec ("people of the rubber country") created a pre-Columbian civilization in south-central Mexico, now the states of Veracruz and Tabasco. Thriving some 3,500 years ago, the Olmec pre-dated other Mesoamerican civilizations, such as the Zapotecs, Teotihuacans, Aztecs and Mayans.
Unlike many other ancient civilizations, the Olmec disappeared without a trace, leaving uncertainty behind them. Their contemporaries were the golden age of Greece and the Zhou dynasty of China, both known in great detail today, unlike the Olmec.