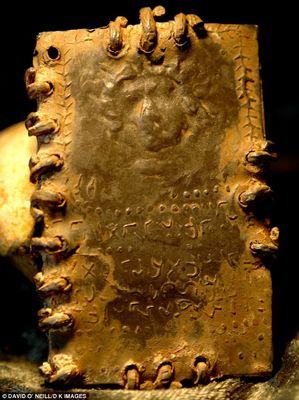 The image is eerily familiar: a bearded young man with flowing curly hair. After lying for nearly 2,000 years hidden in a cave in the Holy Land, the fine detail is difficult to determine. But in a certain light it is not difficult to interpret the marks around the figure's brow as a crown of thorns.
The extraordinary picture of one of the recently discovered hoard of up to 70 lead codices - booklets - found in a cave in the hills overlooking the Sea of Galilee is one reason Bible historians are clamouring to get their hands on the ancient artefacts.
If genuine, this could be the first-ever portrait of Jesus Christ, possibly even created in the lifetime of those who knew him.
The tiny booklet, a little smaller than a modern credit card, is sealed on all sides and has a three-dimensional representation of a human head on both the front and the back. One appears to have a beard and the other is without. Even the maker's fingerprint can be seen in the lead impression. Beneath both figures is a line of as-yet undeciphered text in an ancient Hebrew script.
Astonishingly, one of the booklets appears to bear the words 'Saviour of Israel' - one of the few phrases so far translated.