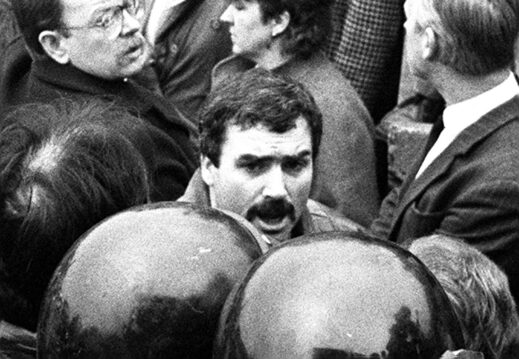 Just as Rome was not built in a day, so also was this abnegation of Ireland and everything Irish not done in the seven or so days it took God to create the world.
Freddie Scappaticci, Stakeknife was, according to the book's
blurb
, "the British spy who played a leading role in the British intelligence war against the Provisional IRA." Stakeknife, along with
John Joe McGee
, another British intelligence plant, ran the
IRA's Nutting Squad
, the IRA's MI6 equivalent, which brutally dispatched spies and those Stakeknife, McGee and their fellow MI6 agents further up the food chain lied were MI6 spies. Typical of their victims was widowed mother of 10
Jean McConville
, who was buried like a dog in an unmarked grave on an isolated beach close to the Irish border where Gerry Adams, Stakeknife's alleged controller, regularly walked his dogs.
Although there is an impressive library on the war crimes Stakeknife, McGee and Adams are implicated in, O'Rawe is uniquely placed to shed new light on these British funded criminals because he was publicity officer for the Provisional IRA's
blanket men
prisoners, ten of whom, including Bobby Sands,
seen here
with MI6 agent
Denis Donaldson
, died by hunger strike, and the last six of whom died, so O'Rawe's previous book
convincingly argues
, because Adams, Donaldson, Stakeknife and their MI6 pals wanted to milk the maximum amount of political leverage from their martyrdom.