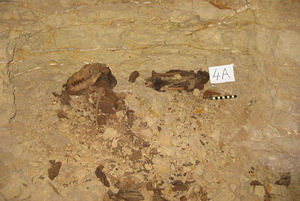 About 8 million mummified dogs lie in the ancient Dog Catacombs in Egypt, a team of archaeologists reveals.
"We weren't expecting such a high estimate,"
Dr. Paul Nicholson
of Cardiff University told
the Star
on Monday. "That was something of a surprise."
Many of the animals appear to be puppies, bred at farms nearby entirely for mummification.
"This isn't some cruel, bloodthirsty mass ritual sacrifice," explained Nicholson. "This would have been a pious act. Pilgrims would have paid for the correct mummification. They were Egyptians doing a good deed. The dogs would have served as their representative to the deity."