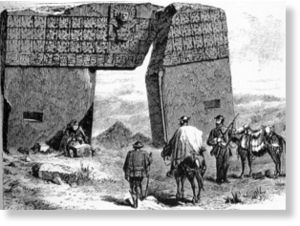 Warfare, triggered by political conflict between the fifth century B.C. and the first century A.D., likely shaped the development of the first settlement that would classify as a civilization in the Titicaca basin of southern Peru, a new UCLA study suggests.
Charles Stanish, director of UCLA's Cotsen Institute of Archaeology, and Abigail Levine, a UCLA graduate student in anthropology, used archaeological evidence from the basin, home to a number of thriving and complex early societies during the first millennium B.C., to trace the evolution of two larger, dominant states in the region: Taraco, along the Ramis River, and Pukara, in the grassland pampas.
"This study is part of a larger, worldwide comparative research effort to define the factors that gave rise to the first societies that developed
public buildings, widespread religions and regional political systems - or basically characteristics associated with ancient states or what is colloquially known as 'civilization,'"
said Stanish, who is also a professor of anthropology at UCLA.
"War, regional trade and specialized labor are the three factors that keep coming up as predecessors to civilization."
The findings appear online in the latest edition of
Proceedings of the National Academy of Sciences
.