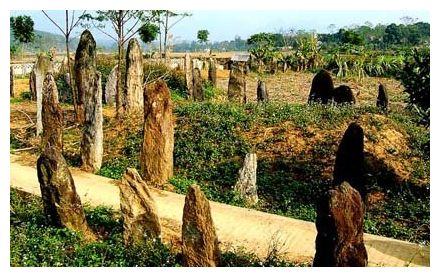 From a distance, one can see giant rocks of several tons in weight in Dong Thech cemetery. However, nobody understands why ancient people moved these rocks to this site, and how they could do that task.
Mr. Bui Minh Loi, a former official of Vinh Dong commune, in charge of culture affairs, has taken care of the giant rocks since he retired ten years ago. Loi witnessed a dozen of excavations, conducted by Vietnamese and international experts, at the cemetery but he did not know clearly about the cemetery. He only knows legendaries about it.
According to legends, this canyon, named Dong Thech is in dragon mouth shape. The canyon is surrounded by mountain ranges in the shape of a rolling dragon and a sitting tiger. Geomancers said that this canyon was very good in feng shui, so mandarins of Muong ethnic group buried their ancestors in the canyon.
The cemetery fell into oblivion after several centuries and it was covered by the jungle. When Loi was a boy, this area was the home to wild animals only. Muong people believe that this is the land of god so nobody dared to come to this land, except for ba moi (magicians of Muong people).
Each Muong village has a ba moi, who has great power and worships Hung Kings, Vietnam's ancestors. Ba moi used to go to the cemetery during holidays to make rituals and Muong people believed that after that their power developed.
Loi showed Chinese scripts on a rock of three meters high and said that he could not read them but he had a transcript by experts. These scripts mean: Mr. Dinh Cong Ky, the head of Muong tribe in Muong Dong. He was born in 1582 and died on October 13, 1647. He was carried to this cemetery on February 22 by 15 funeral hearses, 7 elephants and five horses. The funeral of this man is solemn like the funeral of a king.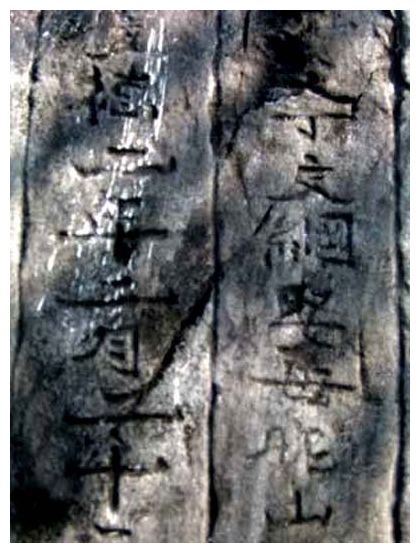 Local mandarins, their wives and children were also buried in this cemetery.