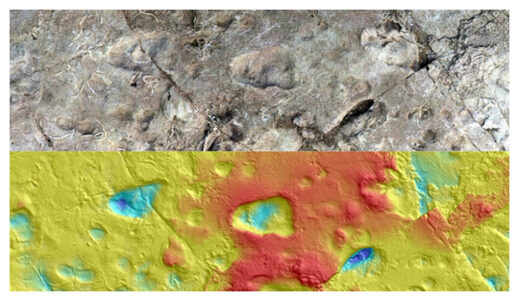 An individual from an
enigmatic hominid species
strode across a field of wet, volcanic ash in what is now East Africa around 3.66 million years ago, leaving behind a handful of footprints.
Those five ancient impressions, largely ignored since their partial excavation at Tanzania's Laetoli site in 1976, show hallmarks of upright walking by a hominid, a new study finds. Researchers had previously considered them hard to classify, possibly produced by a young bear that took a few steps while standing.
Nearby Laetoli footprints unearthed in 1978 looked more clearly like those of hominids and have been attributed to
Lucy's species
,
Australopithecus afarensis
(
SN: 12/16/16
). But the shape and positioning of the newly identified hominid footprints
differ enough from A. afarensis to qualify as marks of a separate Australopithecus species
, an international team reports December 1 in
Nature
.
"Different [hominid] species walked across this East African landscape at about the same time, each moving in different ways," says paleoanthropologist Ellison McNutt of Ohio University Heritage College of Osteopathic Medicine in Athens.
The species identity of the Laetoli printmaker is unknown.
Fossil jaws dating back more than 3 million years unearthed in East Africa may come from a
species dubbed A. deyiremeda
that lived near Lucy's crowd (
SN: 5/27/15
). But no foot fossils were found with the jaws to compare with the Laetoli finds. The 3.4-million-year-old foot fossils from
an East African hominid that had grasping toes and no arch
and the
unusual fossil feet of 4.4-million-year-old Ardipithecus ramidus
aren't a match either (
SN: 3/28/12; SN: 2/24/21
). So neither of those hominids could have made the five Laetoli prints, says McNutt, who started the new investigation as a Dartmouth College graduate student supervised by paleoanthropologist Jeremy DeSilva.