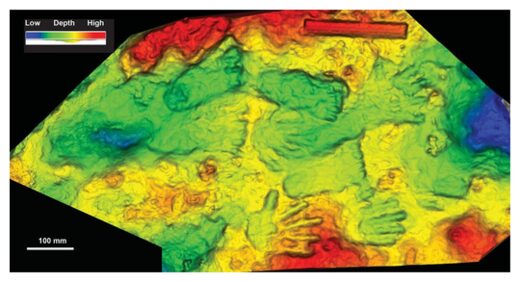 An international collaboration has identified what may be the oldest work of art, a sequence of hand and footprints discovered on the Tibetan Plateau.
The prints date back to the middle of the Pleistocene era, between 169,000 and 226,000 years ago - three to four times older than the famed cave paintings in Indonesia, France and Spain.
To answer the question, "is it art?" the team turned to Thomas Urban, research scientist in the College of Arts and Sciences and with the Cornell Tree Ring Laboratory.
"The question is: What does this mean? How do we interpret these prints? They're clearly not accidentally placed," said Urban, a co-author of the paper, "
Earliest Parietal Art: Hominin Hand and Foot Traces from the Middle Pleistocene of Tibet
," published Sept. 10 in
Science Bulletin.
"There's not a utilitarian explanation for these. So what are they?" Urban said.
"My angle was, can we think of these as an artistic behavior, a creative behavior, something distinctly human. The interesting side of this is that it's so early."
The project was led by David Zhang of Guangzhou University in collaboration with researchers from Bournemouth University, Xi'an Jiaotong University, Education University of Hong Kong, Institute of Geology and University of Minnesota.