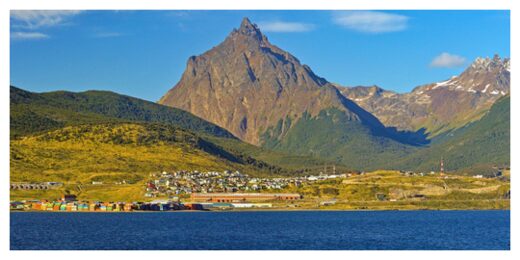 In 2018, biologists in Ushuaia, Argentina, were scooping sediment from the bottom of the Beagle Channel, 1.5 kilometers from shore, when they discovered something unexpected in the dredged gravel and sand:
a narrow, eight-centimeter-long projectile point made of stone.
They alerted Atilio Zangrando, an archaeologist with Argentina's Austral Center for Scientific Research, who immediately realized that he was looking at something remarkable.
According to Zangrando, this is the
first time that a projectile point has been found this deep underwater in the Beagle Channel, which zigzags across Tierra del Fuego. The extraordinary find now prompts the question of
how
the point got there.
Homing in on the projectile point's provenance would tell us something about early humans' relationship to the coast — like whether they hunted at sea, says Zangrando. Illuminating that relationship, however, requires knowing
when
the point ended up in the channel. That's because the water level in the Beagle Channel has changed dramatically since the end of the last ice age, about 15,000 years ago. Back then, the channel was just a long inland lake. But as glaciers retreated and sea levels rose, the lake flooded, connecting the Atlantic and Pacific Oceans. By about 9,000 years ago, the lake had become a channel.
So if the projectile point dates to the early stages of this transformation, then the spot where the biologists found it may have still been land, between the rising water and the retreating ice. Conversely, if the projectile point is much younger, then the spot was likely deep underwater. That could imply the point was used as a weapon for hunting at sea, says Zangrando, adding that people began using watercraft off the archipelago at least 7,000 years ago.