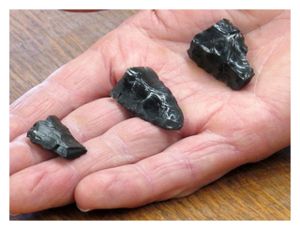 Ancient stone projectile points discovered in a Central Oregon cave complex have cast new light on the identity of the first Americans.
While scientists agree they crossed the Bering Strait during an ice age, no one knows the identity of the first people to spread across the North American continent.
For some time, these first Americans were believed to have belong to a single group, called
the Clovis culture
, named for the New Mexican site where their distinctive,
13,000-year-old projectile points
were first found.
However, some have
questioned this theory
, and these newly discovered projectile points, the sort of stone tips added to spears, appear to add weight to these questions.
These stone points, a type known as Western Stemmed points, are narrower and lack the distinctive flute, or shallow groove, found on Clovis points. Researchers believe the two types of points represent different technologies, produced by different cultures.
"This brings into focus the concept that other people or perhaps even multiple waves of people bringing other technologies were certainly involved in the first colonization [of the Americas]," said researcher Dennis Jenkins, an archaeologist at the University of Oregon, in a podcast issued by the journal
Science,
where the work is published.