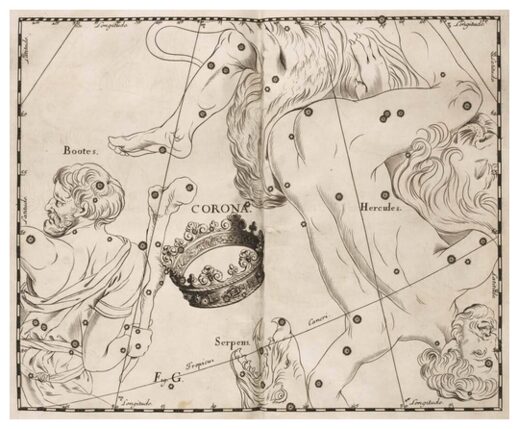 Approximately every 80 years, a faint 10th magnitude star in the constellation of Corona Borealis dramatically increases its brightness. This star, T CrB, is known as a recurrent nova and last flared in 1946, peaking at magnitude 2.0, temporarily making it one of the 50 brightest stars in the night sky.
Aside from the 1946 eruption, the only other confirmed observation of this star's outburst was in 1866. But
new research
by Dr. Bradley Schaefer suggests that
a medieval monk may have spied T CrB brightening in 1217.
In medieval monasteries, monks would regularly keep chronicles - a list of notable events that happened throughout the year. In 1217, the abbot of Ursberg Abbey (in southern Germany, west of Augsberg) was Burchard. In the chronicle for that year, he wrote:
In the autumn season of [1217], in the early evening, a wonderful sign was seen in a certain star in the west. This star was located a little west of south, in what astrologers call Ariadne's Crown [Corona Borealis]. As we ourselves have observed, it was originally a faint star that, for a time, shone with great light, and then returned to its original faintness. There was also a very bright ray reaching up the sky, like a large tall beam. This was seen for many days that autumn.
But was this "wonderful sign" a nova, or one of many other types of transient events that could grace the night sky?