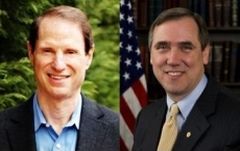 A large grass-roots movement is diligently advocating for your right to pure non-genetically modified food and honest labeling. In most states, you won't see their name on any ballot, nor will you see them on TV amidst economic crisis and Middle East talks.
In a rare, but impervious display of integrity, several state senators have urged the Food and Drug Administration to stop the approval process for genetically modified salmon, including Oregon's very own Ron Wyden and Jeff Merkley.
Many of our pure food advocates feel dismayed, because their always preaching to the choir from the trenches of the infinite battle. They commonly take every opportunity to educate the public and everyone they know about the dangers of the GMO industrial food chain. This faction of society is working to educate the public, as quickly as possible, while holding off the big dogs in court by the skin of their teeth.