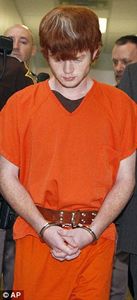 A teenager who strangled his younger brother has said he was inspired by the TV series
Dexter
.
Andrew Conley told investigators that he identified with the character from the hit TV series about a police forensic expert who moonlights as a serial killer.
The 17-year-old told detectives that he had wanted to kill someone for years.
He said his urge to commit murder was like someone who was hungry and had to eat and had he had also fantasised about murdering his father.
Conley told police he had been messing around with his brother Conner when he locked his hands around his neck.
He told police he strangled the 10-year-old with his bare hands for 20 minutes to make sure he was dead.