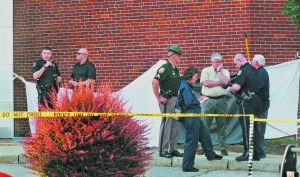 "I have 21 years of Army service going back to the Vietnam War. My loyalty to the government should be a given. It is gone. I am certain it will never return regardless of how long I might have lived."

- Thomas James Ball in his "last statement" before he self-immolated in front of the courthouse that was integral in destroying his life.
I just got back from the Cheshire county courthouse, the site of
yesterday's self-immolation
. As I was walking out, they were painting over the
scorch marks
they attempted to wash away earlier in the morning.
Thomas thankfully dropped off a "
last statement
" to the
Keene Sentinel
, so we could all know what he was going through. I will post that below.
First, what I learned in over an hour and a half of poring over stacks of paperwork along with Kyle Jarvis of the Sentinel and a reporter from WMUR:
Thomas James Ball, born 2/21/53 and his wife at the time, Karen Louise Ball (maiden name Primiano), born 3/2/65 had begun divorce proceedings about a decade ago. It was alleged that Ball had committed domestic violence against his 4 year old daughter at the time, Melissa. Karen had called Monadnock Family Services after the incident and was allegedly told that if she did not report the incident to police, that she would be arrested for child abuse. She called Jaffrey PD out of fear of what the government people would do to her family (steal her kids if they were both arrested) and because of their mandatory arrest policy in domestic violence cases, Thomas was arrested. He was found not guilty of simple assault in Cheshire Superior Court, despite slapping his daughter multiple times and causing bleeding. The Jaffrey PD apparently admitted that pressing forward as a domestic violence case was a mistake. His wife's testimony shows he did not have a history of violence. Thomas figured he'd get to see his kids again after the not guilty. He figured wrong. The court continued to press for counseling at Monadnock Family Services (MFS) prior to allowing Thomas unsupervised visits with his kids. Of course, this is a huge racket for MFS, who likely is paid for every one of the cases they are sent by the court, either by the people involved or by the state of NH.