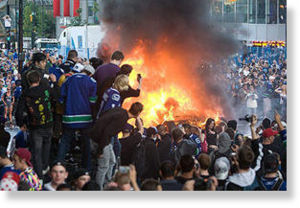 The hundreds that broke windows and burned cars following Vancouver's game 7 Cup loss to Boston might want to take a cue from the
handful that have already turned themselves in
.
Vancouver police are
combing through more than one million photos
from the infamous riot, as well as thousands of hours of raw footage, using facial-recognition technology to aid in the investigation.
"Subject to receipt of a court order, the (Crown) corporation's facial-recognition technology will be able to support the identification of suspects," states a news report from Christy Clark's office in a
Straight.com
story.
The Insurance Corporation of B.C. has been using the technology since 2009, identifying those involved in theft or fraud by cross-referencing results with provincial driver licences.
By analyzing fixed facial characteristics such as the size/location of cheekbones and the distance between eyes, facial-recognition technology is able to extract the finite details of a person's face. Investigators then cross-reference the results with a database of photos, which can include drivers licences, health cards, passports, etc.