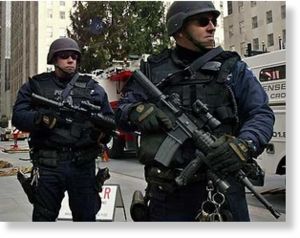 On September 24, Jason Ditz reported on Antiwar.com that "the FBI is confirming that this morning they began a number of raids against the homes of
antiwar activists in Illinois, Minneapolis, Michigan, and North Carolina, claiming that they are 'seeking evidence relating to activities concerning the material support of terrorism.'"
Now we know what Homeland Security (sic) secretary Janet Napolitano meant when she said on September 10: "The old view that 'if we fight the terrorists abroad, we won't have to fight them here' is just that--the old view." The new view, Napolitano said, is "to counter violent extremism right here at home."
"Violent extremism" is one of those undefined police state terms that will mean whatever the government wants it to mean. In this morning's FBI's foray into the homes of American citizens of conscience, it means antiwar activists, whose activities are equated with "the material support of terrorism," just as conservatives equated Vietnam era anti-war protesters with giving material support to communism.