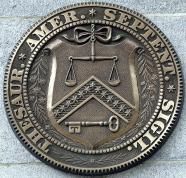 Washington - The Treasury Department has warned US banks to be vigilant of transfers linked to Libya's political leaders, as the international community moves to slap sanctions on top government officials.
The Treasury's Financial Crimes Enforcement Network told banks to be aware of "the potential increased movement of assets that may be related to the situation in Libya," in a statement released Friday.
It also demanded financial institutions "apply enhanced scrutiny for private banking accounts held by or on behalf of senior foreign political figures."