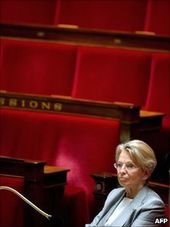 Embattled French Foreign Minister Michele Alliot-Marie has announced her resignation after weeks of criticism over her contacts with the former Tunisian regime.
But she said she had done no wrong, and launched a strong attack on the media.
A veteran conservative politician and cabinet minister, she had been in her new job for just three months.
President Nicolas Sarkozy has announced she will be replaced by Defence Minister Alain Juppe.
Ms Alliot-Marie was heavily criticised for initially offering French help to quell the uprising in Tunisia.
Subsequent revelations about her and her family's links to the regime of former President Zine El-Abidine Ben Ali, and the fact that she had taken a Christmas holiday in Tunisia during the uprising made her position increasingly untenable.
"While I do not feel that I have committed any wrongdoing, I have... decided to leave my job as foreign minister," Ms Alliot-Marie wrote in her resignation letter to President Nicolas Sarkozy, a copy of which was seen by the AFP news agency.