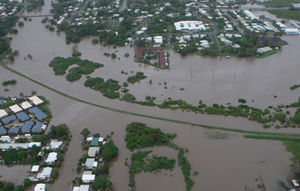 As water creeps into Brisbane suburbs, there is no panic as residents evacuate.
Yesterday, as it became clear Brisbane and Ipswich were in for an historic flood, Premier Anna Bligh called on the people to band together.
In the Brisbane suburb of Rosalie those words have been a rallying call as muddy waters flood people's homes and businesses.
The cafe precinct has been described as Little Venice, with the sandbagging only going so far to protect shops.
This morning strangers walking past joined business owners in forming human chains in the floodwaters to frantically get food and stock out of the area.