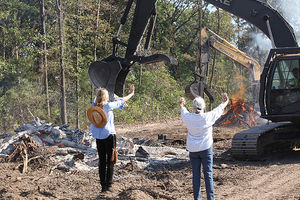 On the eleventh day of action against TransCanada's demolition of forest, land and family farm property in East Texas, actress Daryl Hannah joined Eleanor Fairchild to defend her farm from the heavy machinery TransCanada is using to prepare the environment for the construction of the Keystone XL pipeline. The two ran out and put their hands up in front of the machinery.
Fairchild, who the Tar Sands Blockade describes as a "feisty 78-year-old great-grandmother," put her hands up in the air, along with Hannah, to say, "Stop!" While standing in the way of an excavator there to clear trees, she declared:
...Get off my land, period. And, I don't want tar sands anywhere in the United States.

I am mad. This land is my land and it's been our land since '83. Our home is on it. They're going to destroy the woods and also they could destroy the springs.

It is just devastating but it is also not good to have that tar sands anywhere in the United States. This is not just about my land. It's about all of our country.

It needs to be stopped...