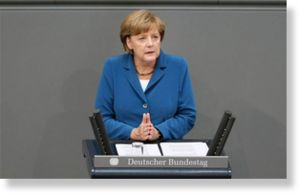 People in debt-stricken Greece are to stage a demonstration in the capital to protest against a planned visit by German Chancellor Angela Merkel, who the Greeks blame for pressuring their government to enforce harsh austerity measures.
Anti-austerity protesters are expected to take to the streets in Athens on Tuesday to take part in a protest organized by labor unions and opposition parties against Merkel's 6-hour-visit to the country.
"She does not come to support Greece, which her policies have brought to the brink. She comes to save the corrupt, disgraced and servile political system," Alexis Tsipras, the leader of the opposition Syriza alliance, said.
"We will give her the welcome she deserves," Tsipras added.