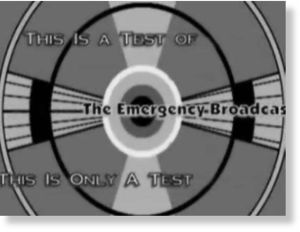 If your co-workers rush in from lunch to tell you that World War III is starting, tell them this:
It's only a test.
Except ... it's not "only" a test.
For the first time in history, every radio and TV station, every cable and satellite operator, will interrupt all broadcasts, at 1 p.m. today, for a nationwide test of the Emergency Alert System, or EAS. (Fans of "The Talk," Maury Povich, "One Life to Live," you have been warned ...)
Two years in the planning, the minutelong drill is designed to expose weaknesses in a 60-year-old readiness system that has never been used - not even on 9/11.
The test is a joint venture of the Federal Emergency Management Agency and the Federal Communications Commission's Public Safety & Homeland Security Bureau, headed by retired Navy Adm. James A. Barnett Jr.