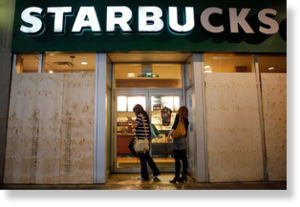 Heading to Starbucks 25 minutes after robbing a bank to sip a latte and act like nothing happened is probably not the most brilliant of ideas.
But to go to a Starbucks just around the corner from the bank in question and sit there reading a newspaper might be an even worse decision.
A 52-year-old transient from Southern California is expected of doing exactly that when he allegedly walked into a California Bank and Trust, located at 700 E. El Camino Real in Mountain View, at 9:09 a.m. on Friday and walked away with $1,100 in cash, after threatening a teller with a gun.
A little after 9:30, an officer found a man who matched the description of the robber sitting at a Starbucks around the corner, reading a newspaper.