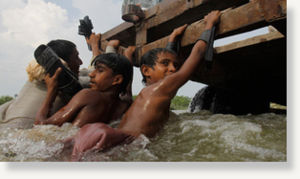 Singapore - Asia must prepare for millions of people to flee their homes to safer havens within countries and across borders as weather patterns become more extreme, the Asian Development Bank warns.
A draft of an ADB report obtained by AFP over the weekend and confirmed by bank officials cautioned that failure to make preparations now for vast movements of people could lead to "humanitarian crises" in the coming decades.
Governments are currently focused on mitigating climate change blamed for the weather changes, but the report said they should start laying down policies and mechanisms to deal with the projected population shifts.