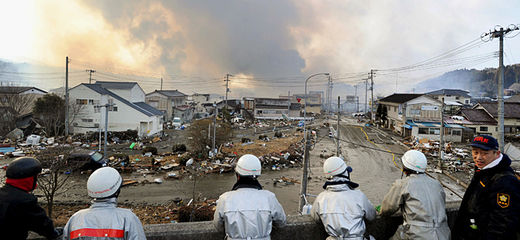 Fukushima, Japan - Japan scrambled on Saturday to reduce pressure in two nuclear plants damaged after a massive earthquake and tsunami struck its northeast coast probably killing at least 1,300 people.
A day after the biggest quake on record in Japan, the government said it was still too early to grasp the full extent of damage or casualties. The confirmed death toll so far is almost 300, though media reports say it is at least 1,300.
"Unfortunately, we must be prepared for the number to rise greatly," Chief Cabinet Secretary Yukio Edano told reporters.
The tremor, with a magnitude of 8.9, was so huge that thousands fled their homes from coastlines around the Pacific Rim, as far away as North and South America, fearful of a tsunami.
Most appeared to have been spared anything more serious than some high waves, unlike Japan's northeast coastline which was hammered by a 10-meter high tsunami that turned houses and ships into floating debris as it surged into cities and villages, sweeping aside everything in its path.
"I thought I was going to die," said Wataru Fujimura, a 38-year-old sales representative in Koriyama, Fukushima, north of Tokyo and close to area worst hit by the quake.