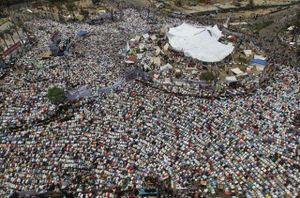 "On February 11, Mubarak, the head of the corrupt regime in Egypt stepped down ... but the regime itself stayed very much in its place"

"Could Mubarak's impending death be a game changer in the Egyptian revolution?"
Things are not always what they seem ...
The Egyptian revolution lasted for amazing 18 days. The president was forced to step down. The power was restored to the people. The mass crowd cheered and screamed in jubilation. Everybody returned home happy.
Dictatorship was overthrown and democracy has finally won and freedom prevailed... The revolution has come to a happy ending.
A wonderful and thrilling story, but unfortunately far from true or over...
Five months ago the whole world was captured by the incredible scenes of millions of Egyptians pouring into Tahrir square literally seizing and taking control of the square, not by force but through peaceful demonstrations and refusing to leave the place before they have toppled the dictator, Hosni Mubarak, who has been in power for almost 30 long years.
Throughout those 30 years, like in any dictatorship ruled by one party, Egypt has witnessed one of its most corrupt and darkest eras. And as the political corruption was infiltrating all aspects of life the deterioration symptoms began to clearly manifest itself on the socio-economic life in the country.
Mubarak rule ignored everything that related to the human rights and the development of the people in Egypt, his party known as the National Democratic Party - NDP- did not care much for the welfare of the Egyptians, their education or their health care and even neglected the historic and strategic file of the river Nile.