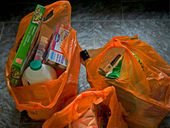 The EU (European Union) was under fire last night for seeking a ban on plastic shopping bags to fight pollution.
Shops in Britain could be outlawed from stocking them, or alternatively there might be a new tax to dramatically reduce their use.
But angry retailers say any move would hit sales, while doing nothing to save the environment.
Richard Dodd of the British Retail Consortium said yesterday: "A Europe-wide ban on bags is unnecessary. It is likely to alienate customers from the green agenda, which is the opposite of what the European Union is trying to do. It is not appropriate for the EU to get involved."
The average British family uses 12 plastic ­carriers for the weekly food shop, while 46 per cent take home up to 10 from each visit. A ban would require people to remember to take their own bags each time they go shopping. Unplanned trips will be almost wiped out as bags will not be available for purchases.