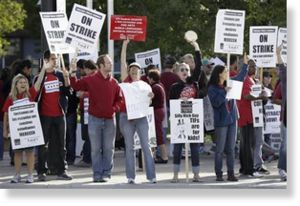 The Chicago Teachers Union and the nation's third largest school district reached an "agreement in principle" to end a five-day strike over Mayor Rahm Emanuel's demand for education reforms, the school district said on Friday, raising hopes that teachers would be back in class on Monday.
"CPS (Chicago Public Schools) and CTU (Chicago Teachers Union) have come to an agreement in principle," the school district said in a message posted on Twitter.
Chicago School Board President David Vitale said the framework deal should allow students to be back in school on Monday morning.
More than 350,000 Chicago students marked a week off classes on Friday after some 29,000 Chicago teachers and support staff walked off the job over the education reforms.
The union's house of delegates, a larger consultative body than the negotiating team, was meeting on Friday afternoon to discuss the state of negotiations. It was not clear if they would vote on the agreement in principle.
The school district said the framework would first have to be approved by the union's delegates and then go to the full membership before it was final.
The teachers walked out on Monday in the first Chicago Teachers Union strike since 1987. It was the largest strike in the United States in a year and has galvanized the labor movement and exposed a rift within the Democratic Party over reforms of urban schools.