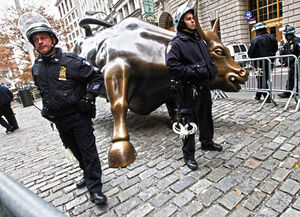 On May 1, after a day of May Day activities on the streets and avenues of Manhattan, my wife and I and a troop of other OWS celebrants marched into Zuccotti Park to jubilant exhortations of "welcome home" from a throng of fellow occupiers. The next day, my wife and I boarded a southbound Amtrak train to join family gathered at my dying father's bedside to bid him farewell.
May in Georgia...In this age of climate chaos, the local flora comes to bloom a full month earlier than in decades past. This season, magnolias and hydrangeas blossomed in early May. Their petals opened to the world as my father's life is fading. The magnolia petals have grown heavy; his body is shrinking. Soon he will drift from this world...carried by the scent of late spring blossoms.
In our once laboring class neighborhood, McMansions blot out the late spring sun. In the arrogant shadow of these shoddily constructed, bloated emblems of late capitalism, the neighborhood's remaining 1950's single level, brick homes seem to recede...fading like memory before the hurtling indifference of passing eras.
In late spring, veils of pollen merge with shrouds of Atlanta traffic exhaust. Timeless nature has awakened as the noxious capitalist certainties underpinning the aberration known as the New South are dying.