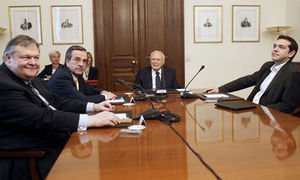 Alexis Tsipras says he will not be 'partner in crime' with mainstream leaders, who criticise his stance as irresponsible
Hopes of producing a government to end the political deadlock in Greece were dashed on Sunday as last-ditch talks between the president and party leaders became mired in rancour and mutual recrimination.
Efforts to fill the increasingly worrying power vacuum floundered as leaders rounded on Alexis Tsipras, head of the radical leftist party Syriza, whose anti-austerity coalition emerged from inconclusive elections as the most popular force in the country. He was accused of being more interested in party politics than a way out of the quagmire.
"Syriza doesn't accept the formation of a viable government, or even to agree to support a government which would undertake to renegotiate the terms of the loan agreement," said Antonis Samaras, the conservative New Democracy leader, after discussions at the neo-classical presidential palace ended abruptly.