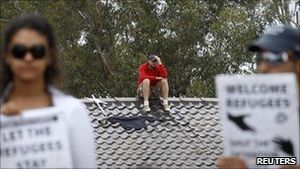 Australian police have clashed with asylum seekers at the Christmas Island detention centre for a second night, firing tear gas and "bean-bag bullets".
Immigration Minister Chris Bowen said up to 40 detainees had "engaged in vandalism and violence" at the centre.
Refugee rights groups said about 10 asylum seekers had held a roof-top protest, setting fire to sheets.
The UN has criticized Australia for holding all asylum seekers while their applications are assessed.
The migrants are held for months at the Christmas Island center, about 1,500 miles (2,400km) from the Australian mainland, and other facilities.
Many have expressed frustration at long delays and overcrowding.