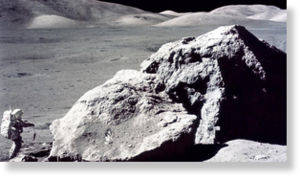 Rock was one of 50 brought back to states from
Apollo 17
mission
A long-lost, highly valuable Moon rock brought back from the
Apollo 17
mission has turned up in the files of Bill Clinton.
The rock was one of 50 presented to each state, and was given to Arkansas while the ex-president was governor. The rock, worth millions of dollars, had been missing since at least 1980 until an archivist found it in old gubernatorial papers. Bobby Roberts, director of the Central Arkansas Library System, told Reuters the archivist opened a box previously archived as "Arkansas flag plaque." The rock and a state flag were originally affixed to the plaque, but the rock had fallen off and the plaque had been misplaced.
"The moon rock, which is in a plastic container, had fallen off the plaque," Roberts said, explaining that the rock was at the bottom of the box. "The archivist immediately knew what he had discovered."