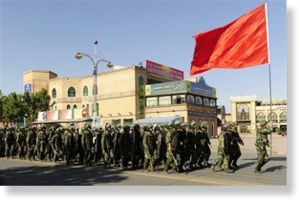 Police shot dead four "rioters" in China's far west on Sunday after at least three people, including a policeman, were killed in the latest in a series attacks in the region this month, the state-run news agency Xinhua reported.
Four suspects were caught and four others were being sought in the latest violence in Kashgar, in a region long beset by anti-Chinese sentiment from the native Uighur population.
Local sources had earlier said three people were killed on Sunday in an explosion, but witnesses reported that the three were hacked to death by the attackers, Xinhua said. Ten people including pedestrians and police were injured, it said.