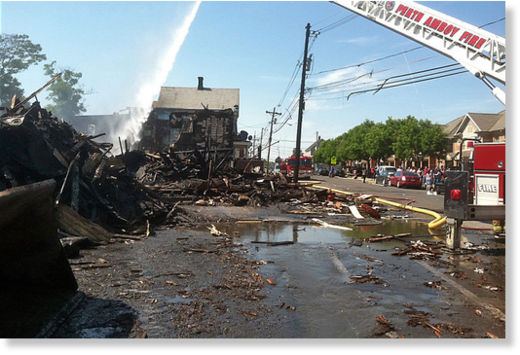 An intense, fast-moving fire destroyed four connected homes and seriously injured three people, including an infant.
Forty-seven people, including 10 children, were left homeless by the five-alarm blaze, which was reported around 3:45 a.m. Sunday. Two residents - a father and son - initially were unaccounted for, but authorities later learned they weren't home when the fire occurred.
A couple and their baby daughter suffered burns and were hospitalized in serious but stable condition Sunday afternoon. Further details on their injuries were not disclosed.
Roughly 75 firefighters from 11 fire companies battled the stubborn blaze, which damaged several other homes and burned for several hours before it was brought under control. The fire was still smoldering early Sunday afternoon. The cause remained under investigation.