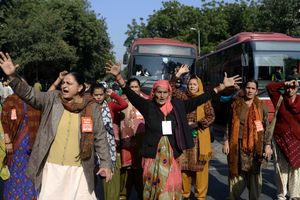 India's decision to ban a documentary about the gang rape and murder of a woman in Delhi has been described as "uncivilised" by the film's director.
The Indian government obtained a court injunction last week to stop the documentary, India's Daughter, from being broadcast in the country.
Comment:
It is clear that the officials in Indian Government condone this behaviour. See this article
here
.
The documentary examines the horrific gang rape and murder of a 23 year old medical student in Delhi in December 2012.
"You cannot bury your shame and think you're going to deal with it somehow," the documentary's maker Leslee Udwin said. "India is part of the civilized world. I don't believe this ban was a civilised move."
The film contains confronting and explicit interviews with one of the men convicted of the rape, Mukesh Singh, and two of his lawyers.
All three men repeatedly blame the victim and the Indian legal system for the crime. "A decent girl won't roam around at 9 o'clock at night. A girl is far more responsible for rape than a boy
," Singh said during an interview conducted in a prison.