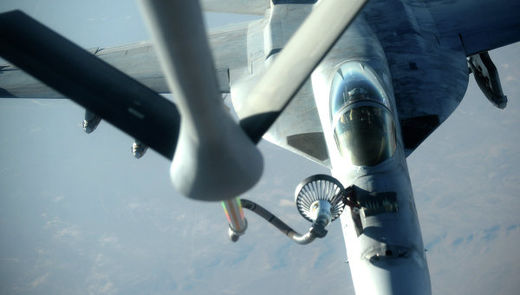 The Syrian Observatory for Human Rights announced Saturday that
at least 10 Syrian civilians, among them children, were killed by airstrikes in the US-led coalition against Islamic State (IS).
According to the observatory, the
airstrikes targeting oil fields
near the Kabiba village killed three people, one under the age of 18 in the far north east Hasakah province, while seven were killed by strikes targeting a gas station in a city in the eastern part of Syria, Der-Ezzor.
The
Islamic State
is a Sunni jihadi group that has been fighting the Syrian government since 2012. In June 2014, it launched an offensive in Iraq, seizing vast areas in both countries and announcing the establishment of an Islamic caliphate on the territories under its control.
In September US President Barack Obama announced his decision to
form an international anti-IS coalition
. Washington extended its airstrikes against the
militants into Syria
, while
continuing airstrikes
against the group's targets in Iraq. Obama said the United States would arm and equip Kurds, Iraqis and Syria's moderate opposition in an effort to eradicate the IS.
Comment:
What is becoming ever more evident is that U.S. has no intention of stopping ISIS. By bombing
empty buildings
,
oil refineries
,
civilians
,
grain silos
and doing nothing to stop the ISIS
attack on Kobane
they are revealing their goals:
U.S. destroying Syrian infrastructure while ISIS slaughters Kurds in Kobani
what should be obvious based on the history of U.S. interventions - that the real objective of U.S. intervention in Iraq and Syria is the reintroduction of direct U.S. military power in the region in order to secure continue control over the oil and natural gas resources of the region, undermine Iran, block the Russian Federation, and break-up cooperative economic and trade agreements between counties in Central Asia and China.