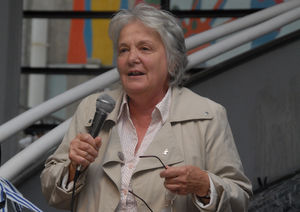 Lucia Topolansky is a first lady like no other. An outspoken senator, former Tupamaro guerrilla and key member of her country's ruling coalition, she is more than qualified to follow her husband Jose Mujica into the presidency.
But would she?
"No way," she told The Associated Press in an interview in her Senate office. "Now that I've seen the presidency up close, I wouldn't wish it on anybody. Look, I remember well how in your country Barack Obama didn't have a single gray hair in his first term, and now he's totally gray!"
Topolansky is, however, being talked about as a potential vice president for Tabare Vazquez, who preceded Mujica in office and is a likely front-runner to retake the presidency in 2014.
Now 69 and gray herself, Topolansky still speaks with the intensity of the young, blond militant who tried to change her country through armed revolution starting in 1966, organizing jailbreaks and even crawling through sewers to escape from prison.
Recaptured just before Uruguay's 1973 military coup, she suffered torture during her nearly 14 years in prison. With democracy's return in 1985, she and Mujica were among the former guerrillas granted amnesties. They eventually got married and kept working for change, achieving through the ballot box what bullets couldn't.
Mujica won the presidency through his charisma and common touch, but credits his wife for his political backbone - missing her birthday while visiting the United Nations last week, he called her his "hard drive."