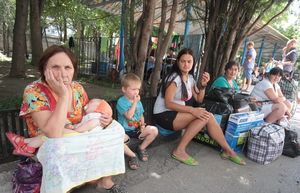 Russia should be ready in winter for a second wave of migration of refugees from Ukraine, and not only from the country's embattled southeast, Russia's human rights ombudswoman Ella Pamfilova told Russian government daily
Rossiiskaya Gazeta
during a business lunch.
Pamfilova said that "the first wave of refugees is now on a decline as people are inspired with a possible truce".
"But there will be winter, which will be hard to live through in affected Ukrainian territories. So we should be ready for the second wave of migration and not only from the southeast of Ukraine. We should also not forget that many refugees who arrived earlier remain in Russia," she said.
Russian Prime Minister Dmitry Medvedev said in early September Russia has had to pay some 1 billion rubles ($25.3 million at current rates) for the stay of Ukrainian refugees on its territory.
Unprecedented wave of refugees
Pamfilova said Russia was not ready for the unprecedented wave of refugees from the neighboring country, but that
aid to the people was provided promptly thanks to joint efforts by officials and ordinary people.
"I don't remember such a burst of civic activism... People got involved in work jointly with the authorities; businessmen, volunteers, ordinary people who decided to house refugees united their efforts. Russia has lived through a unique kind of unity in this connection," she said.
Pamfilova said regional human rights ombudspersons are involved in constant monitoring of the situation with refugees, and she said she plans to submit a package of proposals to the Russian government taking into account the monitoring results.
Western selectiveness
The ombudswoman sharply criticized selectiveness of Western media in their coverage of the situation in Ukraine's southeast.
According to Pamfilova, "independent" European media "are writing about Iraq, Syria and Palestine" but for some reason "fail to notice the death of civilians in Ukraine's southeast."
"Why such selectiveness?
Instead of demonstrative breadth of independent views, [they are] only following the order to label Russia accusing it of everything,"
she said.
"Russia has things to be criticized for, but [critics] should have the moral right to do so. I have the utmost disappointment and I don't hide it from my Western colleagues when I meet with them," the ombudswoman said.
Speaking about the work of human rights organizations in the world in general, Pamfilova said many institutions under the United Nations aegis have yielded to the situation and stopped providing information objectively.
"The powerful human rights billy club is masterfully used to defend someone's economic and political interests. I can't name a single institution in the world which would be absolutely objective and unbiased," she said.
"The values of human rights, understood in a certain way, are imposed by force: you must, you have to. But different countries have different history, culture and mentality," Pamfilova said.
"When a country with a certain history, traditions, culture and religion is censured for the absence of same-sex marriages, people have a feeling that the entire system of European values makes that the cornerstone," she said. "The fundamental rights are played down at that, and people have a natural rejection."