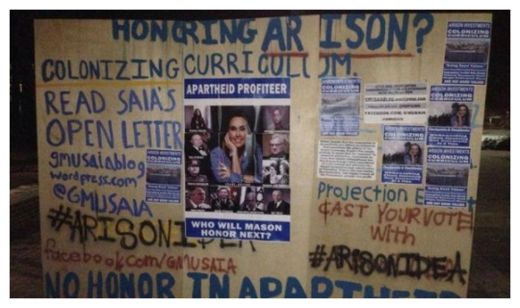 Tomorrow, December 19th, George Mason University is presenting renown billionaire Apartheid profiteer
Shari Arison
, member of the
Arison settlement-building family
and
Israel's richest woman,
an Honorary Doctor of Humane Letters at the university's winter graduation ceremony. Arison will also be a speaker at the event.
George Mason University Students Against Israeli Apartheid (
GMU SAIA
) as well as Craig Willse, Assistant Professor of Cultural Studies, have authored an open letter (below) stating GMU's name is being used to "whitewash the activities of the Arison Group" diminishing "the academic autonomy and reputation of George Mason" and undermining the possibility "for teaching, learning, and practicing social justice on our campus."
Haaretz:
Students Against Israeli Apartheid wrote a letter
accusing the Arison Group of involvement "in the illegal occupation and colonization of Palestine ... and turns the repression, discrimination and displacement of the Palestinian people into profit."
The letter charges the company's various holdings with
offering mortgages in the settlements, mining for minerals in an occupied portion of the Dead Sea, financing the Jerusalem's light rail, construction at checkpoints and the separation barrier, and involvement in the Bedouin resettlement plan by financing a new military compound in the Negev. The letter also says Israeli Arabs are discriminated against at branches of Arison's Bank Hapoalim.
In their opinion, the connection with Arison runs counter to GMU's declared values and hurts its reputation.
"Honoring Arison," they state in an open letter, "makes Mason appear to be a PR machine for robber baron billionaires, rather than an autonomous public research university."