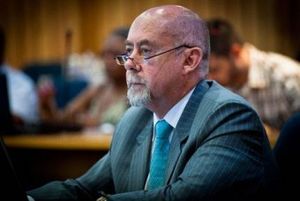 Family members of victims of Wouter Basson have expressed relief that the apartheid-era doctor has been found guilty after a six-year trial.
Wouter Basson was found guilty on Wednesday of unprofessional conduct for acting unethically as a medical doctor during his time as the leader of the apartheid-era chemical and biological programme
Project Coast
and later Delta G in the 1980s.
Basson was not present at the hearing as he had an emergency with one of his patients in Cape Town, said his legal team.
However, the family members of his victims attended the judgment hearing.
Lizzie Sofolo's husband was abducted, drugged, tortured and killed in the late 1980s - with the use of drugs made by Basson.
"Today the truth has prevailed, it is clear that he used his knowledge as a doctor to kill innocent people," she said.
Maria Ntuli's son, Jeremiah, was one of 10 Mamelodi youths who left home to join the ANC's armed wing, Umkhonto weSizwe, in 1987.
In 1996 the Truth and Reconciliation Commission heard that the group was drugged and put into a Kombi that was crashed into a tree and exploded.
"We just want this case to be over with now. It has been dragging on for years now, why doesn't it just end?" said Ntuli.