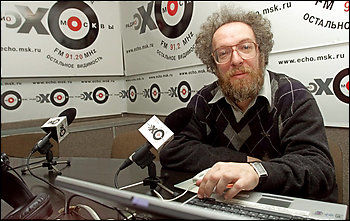 An editor asks listeners if it's OK to publish Muhammad Cartoons and the Chechen responds with threats of violence. Is this how it works now?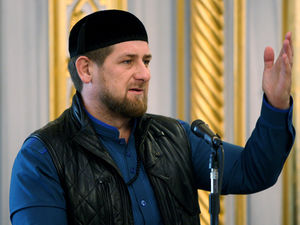 The fallout from the murderous rampage against Charlie Hebdo spilled over the North Caucuses and Moscow on Friday. The
leader of Chechnya, Ramzan Kadyrov,
threatened Radio Echo of Moscow after it ran a poll, asking its listeners whether media, in reaction to Wednesday's murders of the Charlie Hebdo journalists, should publish cartoons depicting the Prophet Muhammad. A majority of Echo's listeners,
68 percent, said "yes," the cartoons should be published and 30 percent said "no."
Less than an hour later, Kadyrov posted on Twitter that that Echo's editor-in-chief, Aleksei Venediktov, had insulted Muslims and said, "There are those who will bring Venediktov to account."
"Venediktov has long ago converted Echo of Moscow into the main
anti-Islamic horn,
" Kadyrov wrote next to his own portrait, which shows him pointing at the sky, muscles bulging, and rings on his fingers. If authorities did not restrict the radio that "incites animosity and hatred among people and nations," Kadyrov went on, "There will be people to make Venediktov responsible." A dangerous statement in the country where
a number of journalists, including Anna Politkovskaya and Natalya Estemirova, have been assassinated by Chechen nationals.
Comment:
In an
interview
in 2010, Venediktov stated:
"...we are rigorously law abiding. We take great care to insure that we don't infringe the outer aspects of the law. ...[I]n the eyes of the authorities we are a showcase for the West, demonstrating that Russia has free speech. And of course we exploit our position. ...[W]e have become a genuine source of information for people who make decisions. [...] The presidential administration and the White House bureaucracy [in Moscow] listen to our forum and look out for what happens in it. [On the topic of data] I have independent sources, which may coincide with what the Kremlin has to say, or may not. They check out our data - it's a kind of model for self-correction. I also think this may be what allows Ekho Moskvy to exist in the form it does.

"Our job is to clarify what rights people have. (Question: Do you feel like the last bastion of free speech?) No. I feel like a professional. It seems to me that we are doing a professional job and we don't think in terms of free speech. We could see the threat. People started censoring themselves because no one wanted to end up on the streets...we didn't change our tone. Eighty-three percent of our listeners have been through higher education, [are] independent people; can't be forced to merge with the crowd...with a strong sense of self-esteem...are individualists. [...] We don't have a messianic mission - our job is to inform and entertain. [...] (Regarding self-censorship) It's fear. The new generation see it as the norm of course. ...they understand that one shouldn't allow oneself to do it, but they don't think why. This shouldn't be happening."
Nice self-propaganda, but at least he reveals his true allegiances: the West, i.e., the Anglo-Zionist empire, i.e., not Russia.