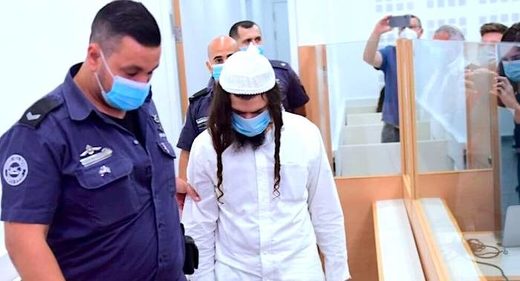 Five years after the
infamous arson attack that killed three members of the Dawabsheh family
, one of the Israeli settlers responsible for the attack was
convicted on Monday.
The Lod District Court in Israel convicted 25-year-old Amiram Ben-Uliel on three counts of murder, two counts of attempted murder, two counts of arson, and conspiracy to commit an ethnically-motivated crime, which can carry up to a life sentence in prison.
According to the indictment,
Ben-Uliel was the person responsible for firebombing two homes in the village of Duma,
south of Nablus in the early morning of July 31st, 2015.
He allegedly targeted homes that he thought were inhabited, with the intention of harming as many Palestinians as possible.
After firebombing the first home, whose inhabitants weren't inside at the time, Beni-Uliel set his sights on the Dawabsheh family home, where he spray-painted the words "revenge" and "Long Live King Messiah" on the walls before
throwing a Molotov cocktail through the family's bedroom window.
18-month-old Ali Dawabsheh died in the fire, and his parents, Riham and Saad later succumbed to their wounds in the hospital. Their son Ahmad, who was 4-years-old at the time, sustained severe burns on over 60% of his body.