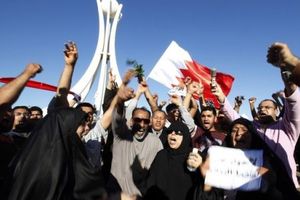 Bahrain's pro-democracy uprising has entered its eighth day, as thousands of protesters camped out at Pearl square in the capital city, Manama.
Inspired by popular revolutions in Tunisia and Egypt, Bahraini demonstrators say they will stay in the square until the regime collapses, Press TV correspondents reported.
Bahrain's opposition movement led by Shia ex-lawmakers is expected to hold talks with Crown Prince Sheikh Salman bin Hamad al-Khalifa to put demonstrators' demands before the heir to Bahrain's king.
The army withdrew from the square on Saturday following an order by Crown Prince Salman, who is leading a national dialogue after days of a massive uprising that has left six portesters dead and hundreds wounded.
Tension is running high in the streets of Manama despite the crackdown and heavy police presence.
The government has violently cracked down on demonstrators demanding an end to the monarchy.