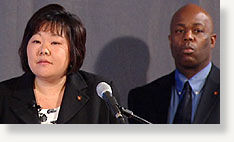 Spending shows 'blatant disregard': auditor general
Seven of the nine citizen board members of the Toronto Community Housing Corporation have tendered their resignations in the wake of a scathing report that uncovered questionable spending and millions in improperly tendered contracts.
The seven, including TCHC Chair David Mitchell, said they were stepping down at a public meeting Thursday morning.
"The appointees take full responsibility for the finding in the ... report," Mitchell said, adding the members felt they couldn't work with Mayor Rob Ford, who has demanded their resignations.